At biglittleme.com, we are always looking out for easy and creative ways to simplify parenting. Today, we are happy to share with you our latest addition to our product range, the drool pads and stuff sack for baby carriers by Red Charlotte.
Why Drool Pads?
For those who use baby carriers, you would very soon realize that the straps are easy target for your child to chew on, leaving it wet and soaked in saliva.This means having to wash the carrier more often. The dried-up saliva could sometimes irritate your child's face, causing rashes or red marks. A simple solution is to use a drool pad. Drool pads are attached on the straps of the carrier and you no longer have to worry about the straps being chewed on. All you need to do now is to change the drool pads when they are soaked. Drool pads comes in a range of colours but are mostly dull and earthy. Furthermore, there isn't a place for you to hang teethers or pacifiers once you place the drool pads on the straps.
The drool pads from Red Charlotte solve these two problems. They are brightly coloured, made of patterned cotton fabric, and comes with loops for you to attached pacifier clips and teething rings. No more missing pacifiers or teethers because your child accidentally drop it while you are out. It also makes it easier for your child to locate the teether.
Why Stuff Sack?
Ever had the experience where you remove the carrier to give your back/shoulders a break but realize that you do not know where to put the carrier? You could hang the carrier over a chair or on the stroller, but the loose straps are usually left dangling. For me, I am particularly concerned about where the straps would touch as that's where my child be chewing on later, so I would roll the carrier up nicely so that the straps are safely hidden in the carrier before finding a 'safe' place to put the carrier.
With the stuff sack, this is no longer an issue. I can roll my carrier up and place it into the stuff sack for storage. It has rubber drawstring to make sure the carrier does not fall out.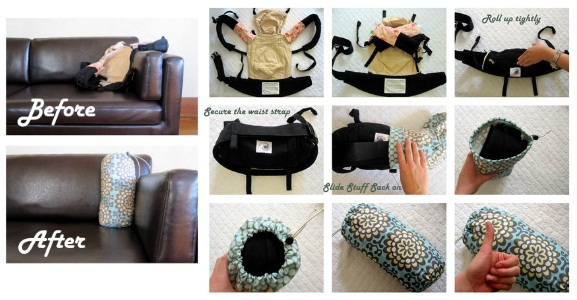 It is a neat and simple way to put the carrier away. What's more, the stuff sack can easily double as a bolster/pillow for your child when he/she is napping. The stuff sack would fit soft carriers like Manduca, Tula, Mei Tai, Beco, Boba, and Ergo Baby.
You can use any bag straps left lying around in your house and fit it on the stuff sack to quickly  transform it into a brightly coloured day bag. The strap will make it easier for you to carry the carrier when your child decides that he/she wants to walk. When the carrier is in use, the empty stuff sack can now double as a messenger bag.