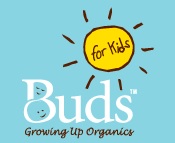 Buds Baby is a comprehensive and certified organic range of baby care, formulated with certified organic and safe ingredients to suit the special needs of your baby's skin. Brimming with hydrating plant extracts and enhanced with blended essential oils, the Buds Organics range will care for your baby's skin and keep it soft, supple and healthy. It delights the senses, soothes the soul and pampers your baby with the essence of nature.
Each and every item is designed to protect against pollutants, environmental hazards and bacteria. The entire range also works to improve baby's skin's inherent healing abilities and protective barrier, ultimately making for a happier and healthier baby.
We carry all ranges of Buds products: Bud Cherished Organics, Buds Everyday Organics, Buds Soothing Range, and Buds for Kids. Buds Cherished Organics range provides care for new born to up to 6 months. Because babies' skin during this period is hyper sensitive and delicate, this range of products have been specially formulated for them. The Buds Everyday Organics range is suitable for babies from 6 months onwards and we have cleanser to moisturising cream to mosquito repellent (one of the more popular products). The Bud Soothing range is suitable for babies with sensitive skin or eczema. We have daily cleanser, to nappy rash cream. Finally, for the Buds for Kids, we have shampoo and shower gel (in both Lavender and Orange).
Shop Now for Buds Organics