Red Charlotte sews accessories for baby carriers, such as drool pads and stuff sacks. Designer fabric are used in their products and are prewashed with eco-friendly detergent so that they are ready for use when the product reaches you. Being the pioneers in the design and sewing of stuff sacks and suck pads for baby carriers, they know what works and what wouldn't.
The drool pads and stuff sack are hand-made with high quality sewing so you know every piece is a quality product. The end result is a product that is well-constructed and safe for your young ones. The quality is unparalleled to mass produced products. The fabric used are vibrant, cheerful and catchy, and helps to personalize your carrier.
Suck Pads
These are reversible and are secured using velcro. Made of cotton, they are soft and natural, and suitable for your child to chew on. Loops are sewn in as well (a feature not on most drool pads) for you to attach teething toys or pacifier. This way, there will be no worries of losing or dropping the teether or pacifier. Three loops are sewn on each suck pad, because one is never enough!
The suck pads can also double as strap covers for the car seat and stroller. Again, besides helping to protect the straps from being chewed (we know how impossible it is to clean/wash those straps), the convenience of having the loops helps in preventing toys or teethers from going missing.
Stuff Sack
Stuff sack is one of Red Charlotte's brainchild. A simple solution to neatly store your baby carriers. Easy to use and is large enough to fit most soft carriers like Ergobaby, Manduca, Tula, Boba, Beco, and Mei Tai.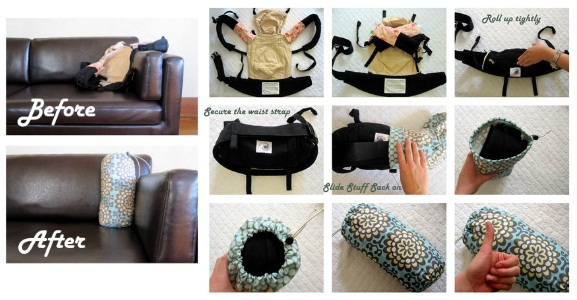 Made with cotton, it makes it easy for washing. Fabric design for the stuff sacks are also carefully selected so that they would complement your drool pads and make pairing so much easier. With an add-on strap (if you wish to DIY), the stuff sack is quickly converted into a messenger bag for your shopping!