Protect, Not Sanitize

Protect against Germs

Effective for 4 Hours

Safe for Newborns

Alcohol Free & Vitamin Based
I super love this BioShield. Have been using since my boy is 1yr old till now, at least 5years already. It's not like those normal sanitizer which just kill one time germs on you but it actually forms a protection on you for up to 4hours! When it's on you, you like become a germs killer, whatever you touch you will kill the germs on the surface.
This is organic n gentle to skin so even infant can use. And not scared kanna the eyes. I always spray like a body mist from a distance from head to toe and front & back. I always spray them before they go school or go out. When dinner outside I also will spray the baby chair and table area where they will touch.
I don't care if others thought I am a kiasu mama or what, I only know if my kids sick, is we suffer so I should do whatever I can to prevent and not risk it.
What is BioShield Kiddie?
BioShield Kiddie is an organic spray (USDA and ECOCERT organic certified) that protects you and your family against germs, bacteria, viruses and fungal infections. Unlike hand sanitizers that kill germs after exposure, BioShield Kiddie protects before exposure to germs. It creates a layer of protection on the skin that is effective against germs that cause flu, tummy aches, and gastro, such as E-Coli, Salmonella, H1N1. It is also effective against HFMD alongside good personal hygiene practices. Thereafter, any harmful germs that come into contact with the skin will be eliminated.
SPRAY
PROTECT
PLAY
Why BioShield Kiddie works?
BioShield Kiddie works because of the complex blend of the following natural ingredients: Bioflavonoids, Ubiquinol, MenaQ7 Natural Vitamin K2, and Lipowheat.
The key ingredient, Bioflavonoids, is a vitamin-based food-derived substance that is produced in many plants to help them fight against viruses, fungi and bacteria. When applied at the right concentration level, Bioflavonoids offer a safe and natural way to prevent germ growth.
The second key ingredient is Ubiquinol, which is a reduced version of our body's natural antioxidant. It protects against damage from UV rays and pollution, and improve the overall skin quality. The other two ingredients (MenaQ7 Natural Vitamin K2 and Lipowheat) improves skin condition and supports immune functions to maintain healthy skin. In fact, Lipowheat has been used in treatment for mild-to-moderate skin irritations.
See below for an in-depth explanation of the ingredients and the lab test results by PDA Laboratories Inc., USA.
---
See what other mummies have to say about BioShield Kiddie.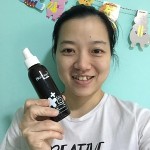 I have been using BioShield Kiddie for half a year now and have purchased 4 bottles thus far. I chanced upon this whilst reading an article from a fellow mummy on Big Little Me facebook site. The article sparked my interest in the product and I requested for a sample. The small little bottle was sent to me very quickly and I started using it on my firstborn who just started preschool then. With the rise in the number of cases of Hand, Foot and Mouth disease in Singapore and especially in preschool/ childcare centers, protecting my kids have been my number one priority.
With the use of BioShield Kiddie, my firstborn is being well protected and the number of times she seem to fall ill reduced and fortunately, she has not gotten the horrible HFMD disease even though two of her classmates have gotten it. Now, I will never leave home without spraying BioShield Kiddie on both my kids, no matter where we are going and there will always be a bottle in my bag as well. Cheers!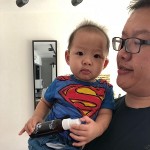 I fell quite ill a couple of times after entering infant care. Since then my mummy got our family a bottle of BioShield Kiddie and it has been doing its best to keep us free from germs and bacteria. BioShield Kiddie – you are the real super hero!
Here's a photo for the record! 🙂
In-depth explanation of ingredients and lab test results.
Bioflavonoids, is a substance produced through metabolism in many plants including the seeds, skin and structural elements of fruits, vegetables and other common plants. These impressive compounds are an integral component in a plant's defense system; they protect the stationary plant against an array of harmful pathogens including viruses, fungi and bacterium. These bioflavonoids are vitamin-based, and food-derived and will not be harmful if ingested. Bioflavonoids are naturally present in many healthy foods commonly consumed by the general population (on average between 70mg and 170 mg of Bioflavonoid are ingested daily) and are metabolized and excreted within 24 hours after ingestion. These bioflavonoids offer a safe and natural alternative for preventing nasty bacteria growth without the use of heat or dangerous chemicals.
Ubiquinol is the reduced, active antioxidant form of Coenzyme Q10 (CoQ10). It is derived from Kaneka Q10TM, the world's most recognized and researched CoQ10 – our body's natural antioxidant. Its main purpose is to help prevent oxidative stress (the imbalance in the way your body is able to detox). This is accomplished both in body tissues and in the skin. In the skin, the main effect of Ubiquinol is to protect damage against UV rays and pollution. Topical application allows a greater concentration in the skin than oral supplements alone. There have been several studies showing the adequate absorption of topically applied ubiquinone and its effects on both photo protection and improvement of overall skin quality. Thus, CoQ10 derivatives are found in many high-end skin care products.
MenaQ7 Natural Vitamin K2 may be applied topically, typically as a cream, to diminish postoperative bruising from cosmetic surgery and injections, broken capillaries (spider veins), to treat rosacea and to aid the fading of hyperpigmentation.
Lipowheat – SkinGest PSORTM helps support immune functions to maintain healthy skin. SkinGest PSORTM represents a natural health product to be used as an alternative treatment for mild-to-moderate skin irritations.
Clinical Trial
BioShield Kiddie has been clinically tested in the USA by PDA Laboratories, Inc (both in vivo and in vitro studies). It has gone through multiple tests and field studies over a 36 months period. In summary, BioShield Kiddie is dermatologist tested and has passed skin patch irritation tests and proven to be a safe compound. It has been clinically tested to kill 99.9% of most common germs like E-Coli, Pseudomonas aeruginosa, Salmonella, Staphylococcus Aureus. It also helps to deter H1N1 and HFMD alongside good personal hygiene practice.